What does vacation mean for you? Is it renting a private holiday villa, lying on the sunbed all day long; doing nothing but chilling, watching the sunset with your family and friends?  Or, is it cruising, discovering hidden islands and sheltered bays and maybe getting hidden as well in the peaceful and loving arms of nature? Is it meditating in a quiet and calming forest, visiting historical places and making time-travel to the past? Or maybe; if you enjoy the challenge of doing something; it is spending all day playing tennis, surfing, water skiing or exploring the magical world under the sea.
Now we are going to tell you about Gocek; a fantastic destination where all these above-mentioned activities and more is possible.
Blue Cruising and Yachting
Located between Fethiye and Dalyan; with its eye-catching natural beauties; Gocek does not only offer exceptional sightseeing experiences but also hosts various activities for holiday makers and the locals.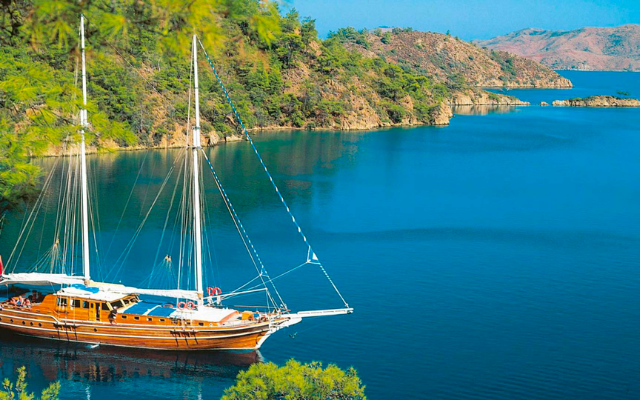 Located on the bay and surrounded by numerous islands; Gocek is sheltered from the wind and described as a natural harbor by sailors. It has an intensive yacht traffic and with its six world-class marinas;
It is providing cutting-edge yachting services to both domestic and international guests throughout the year. There are various yachting and boating alternatives available in the region. Private tours, sun set tours, blue cruises are commonly preferred by the majority of tourists. Visitors can take the advantage of renting a five-star motor yacht or a luxury Gulet; a traditional wooden Turkish boat to experience blue cruising and explore the marvelous Mediterranean coast with numerous islands and hidden bays.
At Gocek rentals; we offer high-standard motor boats and gulet rental services to our guests with our professional and experienced crew. We are able to accommodate up to sixteen cruise lovers at the same time and our guests are welcome to request tailor-suit services to personalize their holiday and itinerary.
Visiting Islands, Bays, Beaches
Greek Islands
Discovering the picturesque and beautiful Greek islands with your family and friends on a private yacht or a gulet would be more than rewarding for any vacationer in Gocek. With its breathtaking scenery, crystal clean waters, history, culture, friendly and welcoming locals, fantastic restaurant alternatives; Greece islands turn out to be one of the favorite destinations in the region. Rhodos, Symi, Meis, Mykonos Lesvos, Santorini are the most commonly visited Greek islands by tourists. Please keep in mind that daily visas are requested for Non-EU citizens.
Gocek Island and Incirli Bay
Situated on the entrance of the Gocek Bay; Gocek island is the shelter of Gocek protecting the village from prevailing winds and offering a natural harbour climate in the bay. Accessible by boat from Gocek; this small island is mostly preferred by people who want to spend time in a quiet and peaceful environment. İncirli Bay; surrounded by beautiful pine trees is a popular destination with its clean waters and shingle beach.
Hamam Bay
Taken its name from Cleopatra Baths, (actually the bay of Cleopatra's Baths); Hamam Bay is a big bay surrounded with pine trees. According to the myth, after finding a hot water spring in the bay; close friends of Cleopatra decided to build a Roman Bath for Cleopatra. The water was coming from a crater lake on the northern side of the bay and with the minerals and elements; it was very good for the skin. Many historical remains and ruins in the bay offer a wonderful sea for snorkelling and a magical atmosphere for swimmers.
Gunluklu Bay
With its unique natural architecture, respectful environment and calming nature; Günlüklü Bay is the number one spot for any one after spending his time in the golden beaches and swimming in a shallow sea. The beach is almost 500 meters long and the sand is extremely beautiful. It is a popular destination especially for families with children.
Yassica Archipelago (Flat Islands)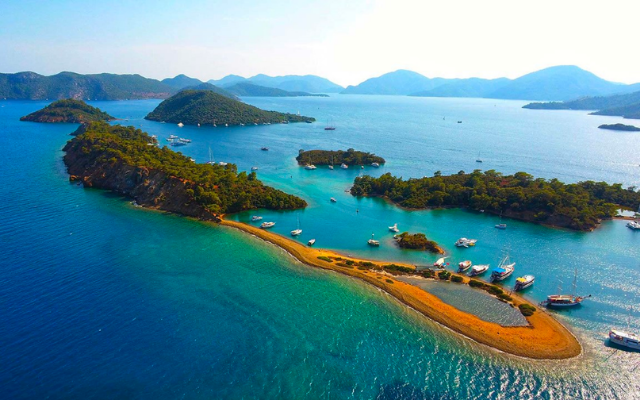 The Yassica Islands are a group of five beautiful islands within the Fethiye Gulf. According to ancient sayings; one of islands named Saytanli Ada, is said to be the island where the devil lived. As there are no inhabitants on the islands, exploring this unspoilt paradise on foot is an exceptional experience.
Yassica islands are small and close to each. The closest of the islands is just 12 meters apart. Visitors can swim and snorkel over ruins in the area and even can follow the ruins of the bridge from one island to the other. The islands with sandy beaches; especially the biggest one with a lagoon are ideal for families with young children wanting to have a dip.
Tersane Islands
Being the largest island in the gulf of Gocek and Fethiye; Tersane island; also called Dockyard island hosts picturesque nature, crystal waters and historical ruins. The island; an amazing place to relax, swim, snorkel and explore, used to be a dockyard of Ottaman Navy during the World War I.
Blue Lagoon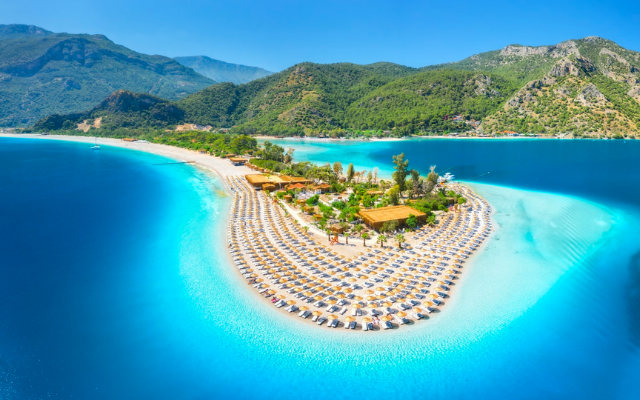 Ölüdeniz famous for its blue lagoon, amazing nature, Blue Flag-winning mile-long curl of sand, shingle beaches and historical sights, is a quiet and calming resort village in Fethiye. It is recognized among the most beautiful beaches in the world.
Those who prefer adrenaline; extreme activities such as paragliding are available in the region thanks to its mountain backdrop. Babadağ mountain offers a paradise to paragliders and a magnificent view to the ones who prefer keeping their feet on the ground.
To the south, Ölüdeniz hosts Butterfly Valley; a canyon home to numerous varieties of butterflies on the way down.
Butterfly Valley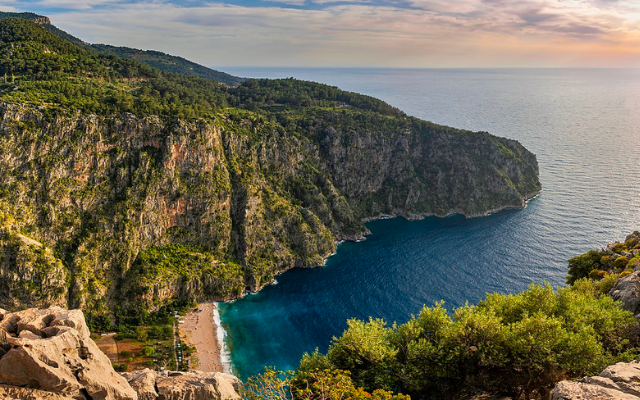 Butterfly valley as being one of Turkey's most beautiful natural wonders is a must-see nature reserve with a secluded bay. The 4-kilometer valley is protected by magnificent cliffs as high as 350 meters. Here; the excitement of harmonizing with nature is extremely overwhelming.
The valley which is home to roughly 100 species of butterflies is entirely a different world; colourful and unspoilt with thousands of butterflies including the rare Jersey Tiger butterfly. There is also a small waterfall hidden in the valley and that's where butterflies breed.
Saklikent Canyon
Saklikent (Hidden City) Gorge is the longest (20 km long) and deepest gorge in Turkey and the second-largest gorge in Europe.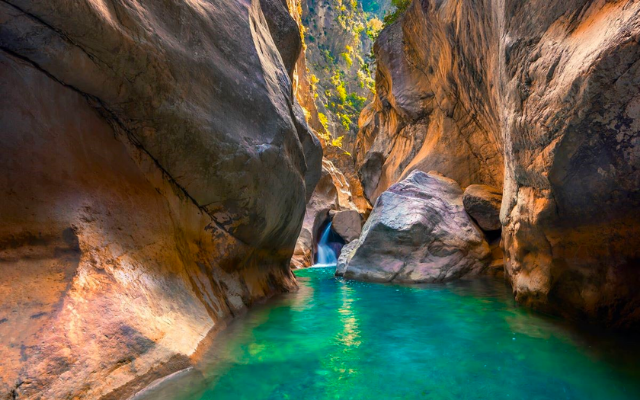 With its sculpted walls soaring high above, cool and shady canyon; Saklıkent offers a spectacular experience for its visitors.
Various Sports Activities
Swimming and Water-sports
Turquoise clean waters, award-winning sandy beaches, numerous islands and bays makes Gocek a favorable spot for swimming and water sports. Snorkeling and diving in the hearth of historical ruins and exploring the treasures under the sea is more than priceless for enthusiasts. Water-ski, jet-ski, sail boat rental services are available throughout the coast.
Tennis
Gocek has been a favorite destination for tennis players and fans since the opening of Gocek Tennis Club in 2012. With their 4 clay courts and full flood lighting;
Gocek Tennis Club not only offers a world-class tennis-playing atmosphere throughout the day and night but also an entertaining and relaxing place to socialize. Visitors can either purchase or hire all the necessary equipment from the clubhouse.
Cycling
Cycling is also very common in Gocek. There are various bicycle rental companies in the village. There are also bicycle tours starting from nearby villages like Akyaka and Gökova those pass through Gocek.
Paragliding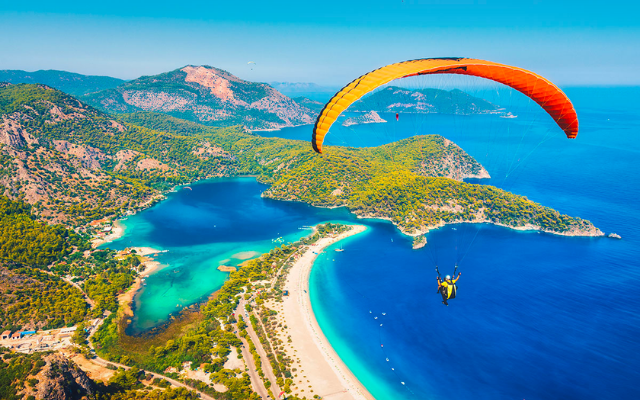 With its 1960 meters high pine-cloaked Babadağ mountain backdrop; Gocek not only offers magnificent scenery but also spectacular jump-off points for paragliding flights.
Flying like a bird with an experienced pilot in tandem down to Blue Lagoon takes approximately 30-45 minutes. Sitting back and enjoying the breathtaking views of Fethiye, Hisarönü and Ölüdeniz is absolutely a stunning lifetime experience.
Gocek Premium Rentals and Sales Experts
Gocek Rentals is a full-service luxury holiday villas and motor yachts rental company focusing on providing world-class services in the most beautiful bay of Mediterranian; Gocek, Our highly skilled and experienced team of professionals are 7/24 ready welcoming you and your beloved ones to offer a tailor-suit holiday experience and generate unconditional customer satisfaction.
Spread the word out, no hesitations. "Your dream vacation happens in Gocek rentals!"