Did you ever embrace all the hues of the rainbow while floating over the crystal waters in one of the most beautiful coasts of Turkey or even the Mediterranean, in Gocek? Located between Dalaman and Fethiye; Gocek sits in a large bay, in which numerous islands and coves create an imaginary environment. Known as "Kalimche" in the past, Gocek is an internationally recognised natural harbour. With its six world-class marinas and excellent climate; Gocek hosts sailing enthusiasts all year long.
12 Islands boat tour is one of the most entertaining and must-have activity for any vacationer travelling to Gocek. Once you are in the boat; get ready to witness magnificent views of Fethiye, magnificent bays, islands. The 12 Islands boat tour starting from Gocek, where blue and green come together, will ensure you are happy. You will be able to see many different places in this tour through the boat which anchoring many beautiful islands those all have different names.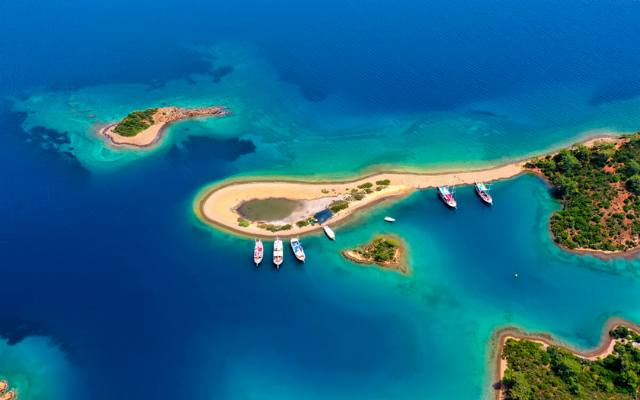 The most important of these islands are Kizil Island, Zeytin Island, Yassica Islands, Tersane Island, Domuz Island, Sovalye Island. In addition to these islands, the wonderful bays of Fethiye is also visited.
Well, what islands and bays can we get to visit with Fethiye Gocek 12 Islands boat tour? What are the characteristics of these places?
BEST BOAT TOUR ROUTES: GOCEK ISLANDS AND BAYS
RED (KIZIL) ISLAND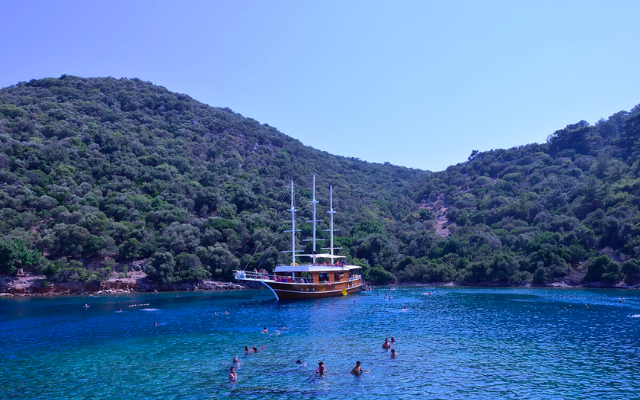 Kizil Island, which fascinates everyone with its sunset, perhaps took its name from its land that returned to the red. On the southern tip of this beautiful island, there is a lighthouse that provides a nostalgic and romantic image. This lighthouse is especially welcome warmly by photographers. There is also a seafood restaurant on the south side of the island. You can have a nice dinner here.
KATRANCI ISLAND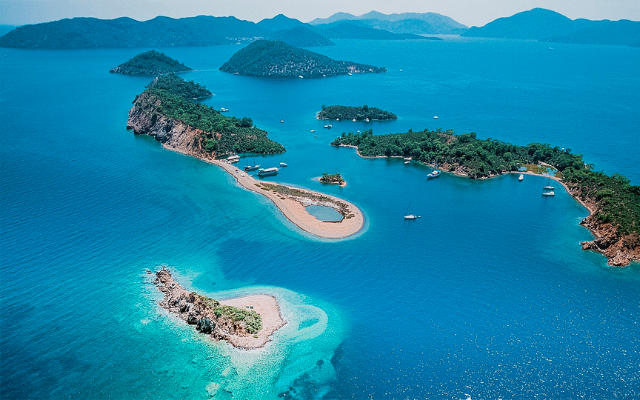 Katranci Island is one of the most visited places for adventure lovers coming to Fethiye for camping. There are no hotels or businesses on this island. For this reason, it is considered to be one of the ideal spots for anyone who wants to be nested with nature. #Katranci Bay is located approximately 15 km from Fethiye and wonderful pine trees cover every part of the island. This island is also frequently visited by people who want to fish.
GOCEK ISLAND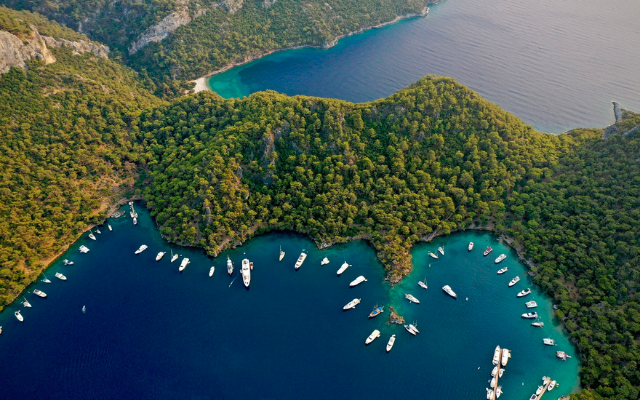 Everyone who comes to Gocek 12 Islands boat tour should go to Gocek Island. This wonderful island has many bays, and the boats can easily approach these bays. Gocek Island is considered as one of the most important factors in Gocek being a natural harbour. Gocek Island is a protector of Gocek against winds. Yacht passengers frequently visit the bays around the island. This island, which is covered with pine trees, must be visited by anyone who wants to swim, have fun and find peace.
YASSICA ARHIPELAGO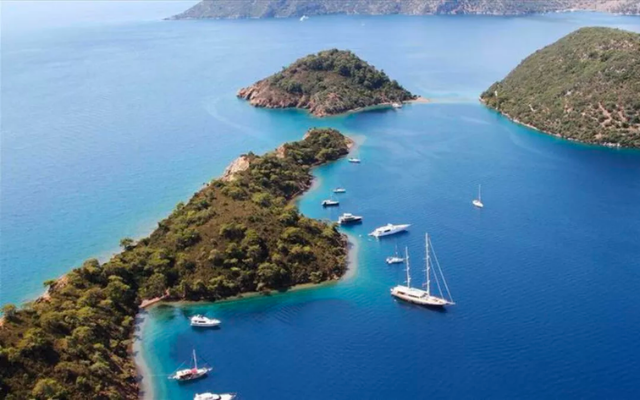 Yassica Archipelago, consisting of 5 small islands, is one of the most visited islands on day tours. Especially the tour boats are very fond of anchoring these islands. The north tip of the main island in the Yassica Archipelago is ideal for people who want to swim. Various water sports are also performed in this area. In Yassica Archipelago, islands are separated from each other by narrow straits which have a natural beauty. Traveling between these islands will make everyone happy. In particular, the moonlit nightscape of Yassica Islands is recommended for visitors.
OLIVE (ZEYTIN) ISLAND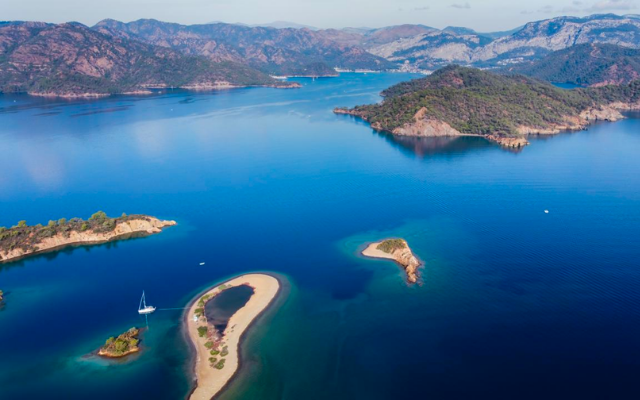 Zeytin Island (Haci Halil Island), one of the Yassica Archipelago, is the only private property of the region. On this island, there is an olive squeezing facility which is estimated to have remained from the Ottoman era. It is unfortunately forbidden to go to Zeytin Island which belongs to the Zorlu Group.
SHIPYARD (TERSANE) ISLAND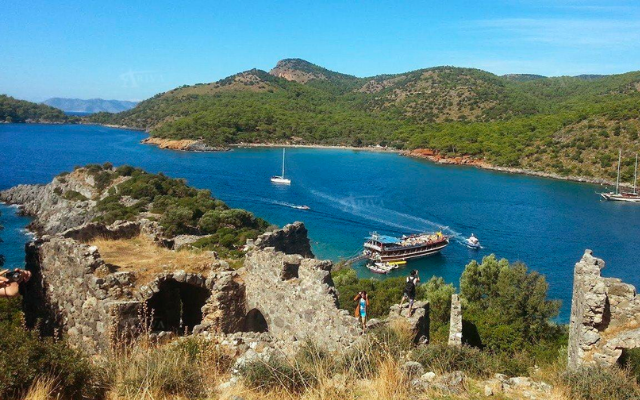 The biggest island you can see when you go on Gocek 12 Islands boat tour is the Tersane Island. The historical texture of this island is very important. Many buildings dating back to the Early Roman era and bearing Mediterranean architectural features are located on Tersane Island. The island has taken its name from the existence of a shipyard in the past where the construction, maintenance and repairs of small ships were made. In Tersane Island, one of the first places to come to mind in the 12 Island tour, lives livestock and farming families.
BOAR (DOMUZ) ISLAND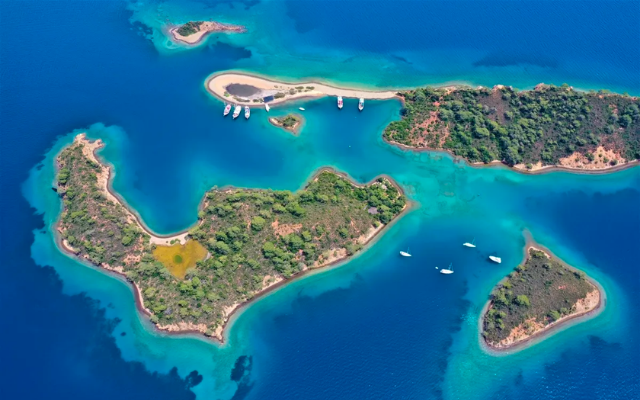 This island took its name from boars thought to live on top of the island. But because the last owner of the island is a prince, it is also called "Prens (Prince) Island." This island is a private property and its surroundings are not very convenient for boats to dock. Domuz Island, belonging to Simavi family, is the closest island to Kapidag Peninsula. Pancho Bay, located to the north of this island, is a preferred point for anchorage. Aquarium Bay, which is located between Boar Island and Shipyard Island, is also one of the preferred points for masked diving.
KNIGHTS (SOVALYE) ISLAND
Knights Island is located to the north of Fethiye Harbor. Entrances were kept under control to this harbor in the past. Because the location of the island has been very strategic since the old times. It is known that in the 15th century the Rhodesian knights took control of the island for a long time. There are also many late Roman ruins on this island. Old cisterns, castle walls and mosaic remains can be easily observed. There is a hotel, two apart hotels, a restaurant, beaches and picnic areas on the island. The boats go regularly to the island from 10 am to 7 pm during the summer. In addition to this, it is also possible to cross the island through 12 Islands boat tour.
GOBUN BAY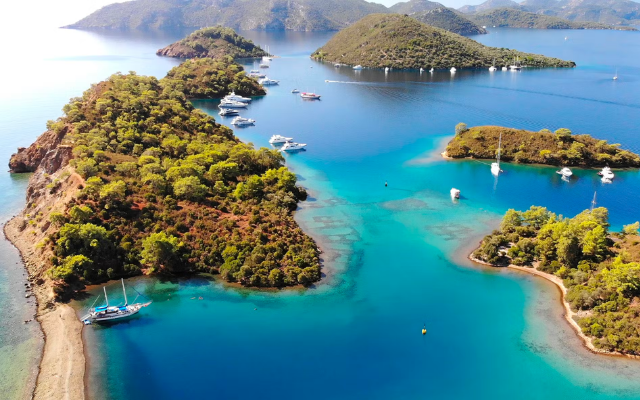 The first stop on the 12 Islands boat tour is Gobun Bay. This beautiful bay is located to the west of Fethiye and has a sea of magnificent clarity. This bay is approximately 7-10 m deep and has the calm waters of the Gulf of Fethiye like all the other bays. In this bay, there is also a café restaurant which is a family run. Beside Gobun Bay, there is also other bay called Magarali Bay. In this bay, there is a cave in the rocks and a ladder on the way to the cavern. These two structures are completely natural.
BEDRI RAHMI BAY
This bay is one of the most popular destinations of the 12 Islands boat tour. It is opposite the Shipyard Island. It is also called "Lycia" and "Tas Yaka" Bay.
The remarkable aspect of this bay is that it has a natural beauty and is historical texture. The island is named after Bedri Rahmi Eyuboglu, the famous Turkish painter who frequently visited the bay. Eyuboglu who visited this bay together with his friends in 1973, made a picture of fish on a rock here. People still admire the picture. This stone is called "Fish Stone" by local people. Bedri Rahmi Bay is very popular because of the windlessness among the campers. A large olive and pine forest and oleander flowers just behind the bay area greet all the passengers. At the back of the bay area, archaeological remains such as tombs. These tombs are the most important finds that make up the history of the bay.
CLEOPATRA'S BATH
This wonderful bay, known as the "Cleopatra Hamami", is a wonderful place to meet with green and blue. In this bay, which is full of many pine trees, you can see every tone of the blue. In the southern part of this bay is the remains of historical artifacts destroyed due to the earthquake. According to legends, one of Cleopatra's visits to the Anatolian coast, her close friends decide to build a bath as a gift to her. They build the bath in this bay because there is a hot water source in this part of the bay. This bay is also very good on the skin because of its minerals and elements like calcium, magnesium etc. It is even said that the secret behind Cleopatra's beauty lies in this bay. If you want to give your skin a chance, you should definitely swim in the unique waters of this bay.
GEMILE BAY
Gemile Bay is a wonderful natural area surrounded by olive and pine trees. St. Nicholas Island is situated right opposite this bay. There are remains of the Byzantine era on this island. These remains reveal that St. Nicholas lives on this island.
OYUKTEPE PENINSULA
On the western side of the Fethiye Harbor locates Oyuktepe Peninsula. In this peninsula, there are many beautiful bays like Aksazlar, Samanlik, Kuleli and Boncuklu. These bays which are about 7 km long, are considered as daytime recreational places.
TURUNC PINARI BAY
Turunc Pinari Bay, where the yachts are frequently visited, has taken its name from the abundant citrus trees. Also, it fascinates everyone with its fountain.
KUCUK KARGI BAY
Kucuk Kargi, which campers often visit, is famous for its beaches. This area, which is covered with sweetgum trees is considered as a promenade area. Transportation to this area is provided by minibuses.
SARSALA BAY
Another bay you can reach with 12 Islands boat tour is Sarsala. Sarsala which have a fine sandy beach offers shady places to people with its trees. This bay, which is especially suitable for those who want to spend only the one day, is almost described as a paradise. There is no hotel in this bay, so its natural texture has not deteriorated. There is also no cafe, area for beach volleyball etc. in the bay.
AYTEN BAY
Ayten Bay is one of the most beautiful places among Gocek bays. It is possible to reach here both by land and by boat. The bay surrounds are filled with wonderful pine trees and have warm water. But we have to warn you; the sea is a little stony. You can easily camp in the area where this bay is located.
INLICE BAY
Inlice Bay in Gocek is known for its proximity to Dalaman. This wonderful bay is only 5 km away from Gocek. There is also a public beach here. Ideal for those who want to camp and have a picnic.
GOCEK BOAT TOUR
Gocek 12 Islands boat tour is an action that should definitely be experienced by those who want to visit Gocek exactly. There are a limited number of beaches in Gocek. For this reason, those who come here prefer to go on 12 Islands boat tour. With 12 Islands boat tour, you can reach untouched virgin bays and enjoy a pleasant day. You will be able to see Yassica Islands, Zeytin Island, Domuz Island and more on the daily Gocek 12 Islands boat tour.
HOW TO GET TO GOCEK?
You want to go on 12 Islands boat tour. Well, how do you get to Gocek?
Transportation by Road
It is possible to reach Gocek region by highways connected to Burdur, Antalya and Mugla. Besides, there are bus services to Fethiye from cities like Ankara, Bursa, Izmir, Istanbul and Antalya. These buses pass through Gocek.
Transportation by Air
It is 23 kilometres between Dalaman Airport and Gocek. You can get to Gocek by renting a car or transfer services from this airport.
Transportation by Sea
If you want to reach Gocek pleasantly, you can also choose the sea route. Gocek port, which is considered as one of the centres of yacht tourism in the world, is a region frequented by yachters all over the world.
TRAVEL GOCEK WITH GOCEK RENTALS
Every person has a different expectation from a vacation. But a peaceful place will show itself even from a distance. Gocek is one of the most beautiful holiday resorts you can find peace of mind. Happiness, rest and beautiful memories will find you here. You can experience the pleasure of a beautiful and peaceful holiday in Gocek. You will find the pleasure of enjoying your favorite holiday dreams. You will be pleased to meet your holiday expectation nicely and to make your holiday wonderfully interwined with nature.
If you want to have the holiday of your dreams, check out our Gocek holiday villas and Gocek holiday apartments and choose your holiday rental that best describes you. Once you are in Gocek; do not miss the 12 Islands boat tour opportunity. Keep in mind; the clarity of the water in Gocek will blow your mind.