We all tend to search for places offering the most picturesque landscapes with the best swimming facilities. Golden sandy beaches, crystal clear waters, green forests, historical sights and breathtaking underwater scenery are some of the most-common attractive reasons for holidaymakers. Here is the beaches in and around Gocek.
As the leading holiday villa rental company of Gocek; we wanted to acknowledge our guests about wonderful beaches those are in and around Gocek. Before you continue reading our guide for Gocek beaches; make sure you bookmark this page because you would probably need it in the future again.
The Best Gocek Beaches
D-Resort Blue Point Beach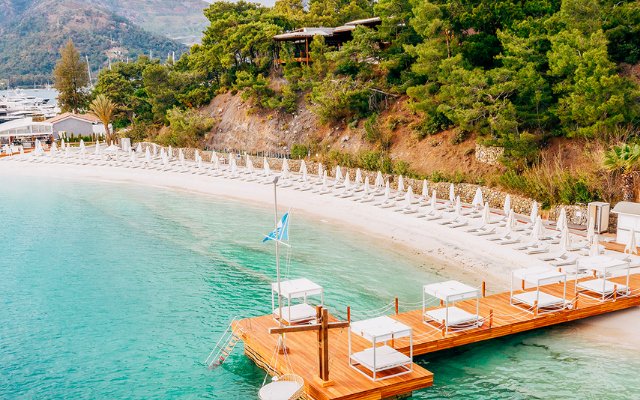 The up-market D-Resort; formerly the Swissotel, has been renovated under new ownership by Dogus Holding with comfort, luxury and elegance. It is welcoming its guests with a magnificent greenery nature, 250m blue-flag beach and special light sand that has been brought exclusively from Sahara, Egypt. The sands are so exceptional that during the hot summer days; they don't get hot, so they don't burn your feet. Blue Point Beach is located in D-Marin Göcek and can be reached anytime by golf carts provided by the marina management. Here, you can spend your time with your beloved ones in one of the special lodges over the docks and fall in love with the deep blue sea and magnificent surrounding scenery. There is a daily entry fee of around 20€ on weekdays and 23€ at weekends covering sunbed, parasol hire and lunch discounts, or if you fancy; you can get a seasonal membership too. D-Resort Blue Point Beach can be easily considered the best beach alternative in Gocek.
Inlice Beach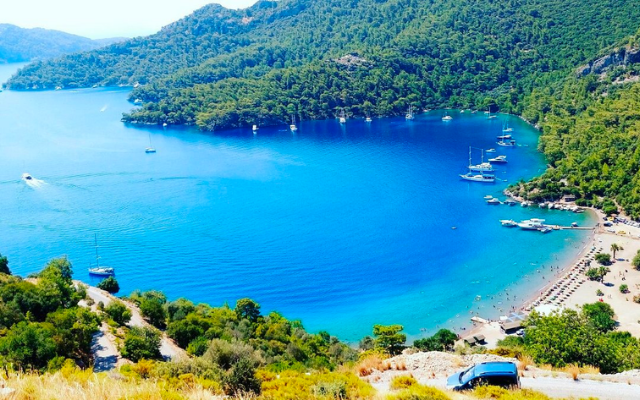 If you are looking for a free beach alternative in Gocek; there is İnlice Beach just 5 km distance to Gocek centre. İnlice Beach offers 800 meters long black thick sandy beach, a freshwater stream and most of the time calm waters unless the weather is windy. With its convenient location; driving to İnlice Beach only takes 10 minutes from Gocek. You can take a dolmus or a bus those leaving from in front of the municipality building all day long. Besides; the beach and a café are run by the municipality of Gocek. You can find good and reasonable food, alcoholic and non-alcoholic beverages, polite staff and welcoming locals in the beach, however, in busy times, especially during national holidays; it can be too crowded, and the barbeque smell can be a bit disappointing. The beach almost offers you everything you need e.g. sunbeds, umbrellas, showers, toilets, changing facilities, car parking for far more affordable prices compared to many other expensive alternatives nearby. There is also a camping area just behind the beach so if you fancy; you can spend an affordable vacation right next to the beach. As being home to endangered sea turtles; İnlice Beach is a great destination for snorkelling.
Kille Beach
This place is really special and has the convenient infrastructure, including sun beds, umbrellas, showers, toilets and a great cafe in the shade of a big tree. The place is ideal for family holidays due to the lack of wind because the water here is always quiet and calm. In addition, we would like to note that the beach is perfect for camping lovers who prefer the beauty of the mountains with the background of the blue sea.
Sarsala Beach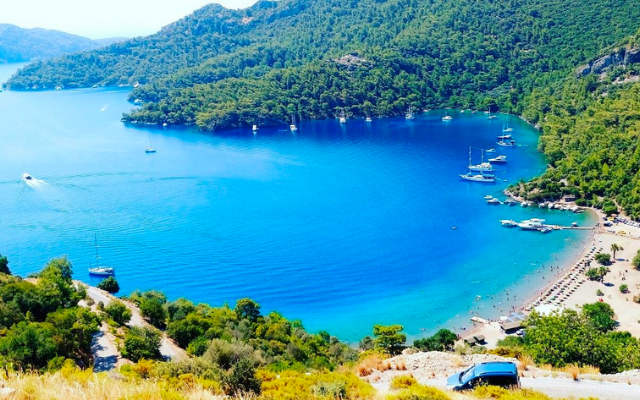 Sarsala beach is another fascinating route just 30 minutes driving distance to Gocek centre. On the way to Sarsala; Koca Lake welcomes you with its unfolded picturesque scenery. In a short drive; you find yourself in Sarsala Bay where you will be wrapped by the peaceful arms of the eye-catching nature. Sarsala is divided into two bays; the little Sarsala Bay is home to domestic and international yachts and boats while the Big Sarsala Bay, with its spectacular Sarsala Beach, is the favourite destination for locals and tourists. Here, the sea is warm, very clean and safe. It offers you the luxury of swimming with caretta carettas, so snorkelling enthusiasts should definitely get their equipment ready during their visit to Sarsala Beach. Beach volleyball, banana ride, sea cycles and camping are some of the extra activities here you can go for.
There is a small entrance fee to the beach where you can rent sunbeds for a very small amount of money. Also; well-priced snacks and drinks are available in the small café that is run by the Dalaman Council. Toilets, changing cabins and car park facilities are also offered for free. For a wonderful day out in Gocek; don't miss visiting this unruined and unique piece of heaven on earth.
Gunluklu Beach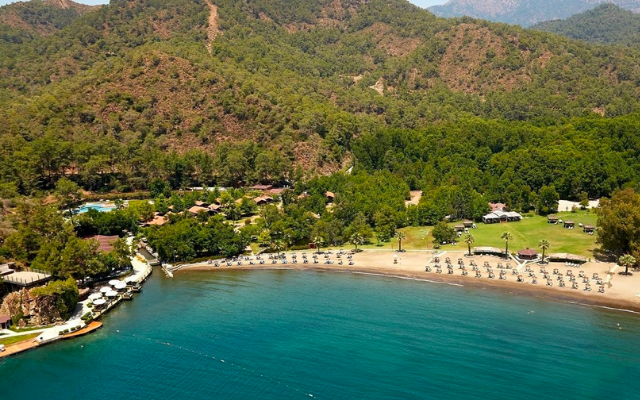 Günlüklü Bay is located between Gocek and Fethiye; just a 10 km distance from the Gocek town centre. With its 500 meters long silky sandy beach, surrounding shallow trees and magnificent turquoise view; Günlüklü Beach ensures a natural atmosphere and total relaxation. The bay is not very crowded and mainly used by vacationers. There are camping areas available. Water and electricity are provided so it is a great alternative if you want to spend your vacation in a tent smelling the air filled with the essence of shallow trees in the heart of nature. There is a small entry fee for the beach, sunbeds and parasols.
Lime Beach Club Gocek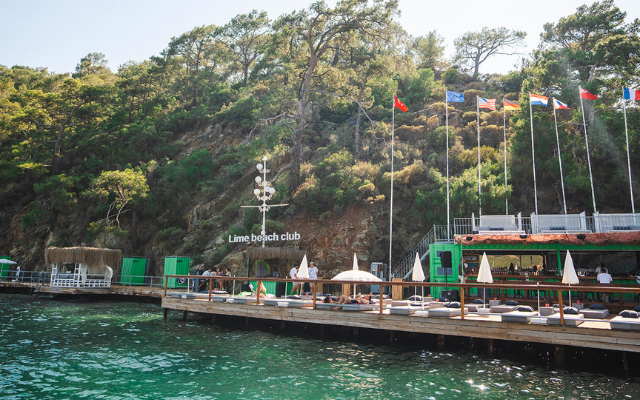 With its convenient location and stunning 180 degrees Gocek Bay view; Lime Beach is a great alternative for enjoying the sun in comfortable sunbeds, chilling and tasting good food served by kind staff in Gocek. All you need to do is go to the marina and make a phone call then a speedboat would pick you up and take you to the deck. The beach is small but offers cutting-edge service quality. There is a small entrance fee but as you feel very special indeed; it is worth it.
Gocek Island Beach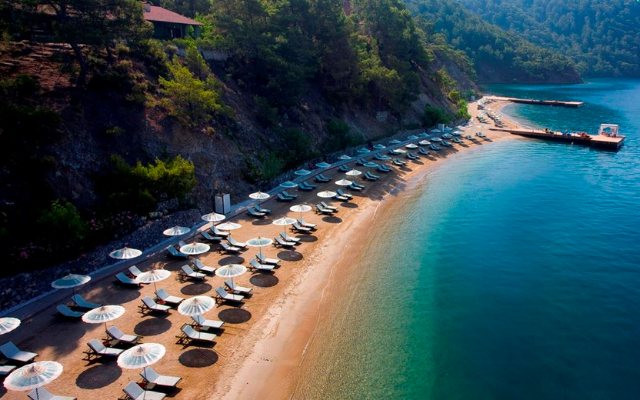 With its very clean sea, green pine trees, peaceful nature and convenient location; Gocek Island stands as one of the favourite beach alternatives for those who travel to Gocek.
Situated in front of Gocek Bay; Gocek Island serves as a shelter for Gocek from the winds. It is a commonly preferred destination for yacht enthusiasts. Here, you can take a nap under the pine trees, swim in the crystal clear waters, and have fresh and delicious food and beverages in a calming atmosphere with comfort. There are toilets, changing units, showers, sun loungers and parasols available. It is one of the best beaches in and around Gocek.
You can access Gocek Island by water taxi from the pontoon next to the Marina Office in around 15 minutes. There is a small fee for the transfer and a water taxi service is available once an hour. On the way back; the last boat returns from the island around 6 pm.
Katranci Natural Park Bay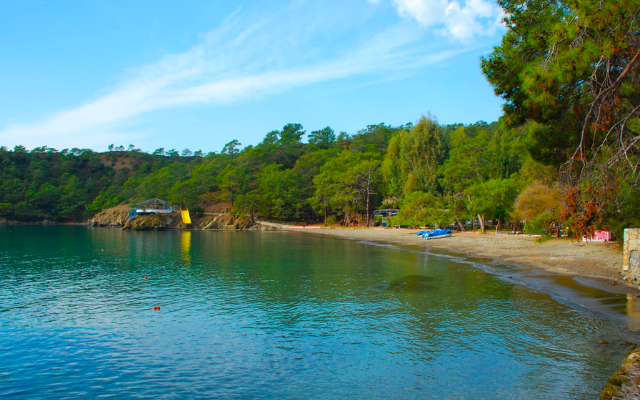 Surrounded by red pine, eucalyptus and acacia trees; Katrancı Natural Park Bay is welcoming you with its one-of-a-kind natural beauty. Situated just 18 km to Gocek; golden sandy beaches are shaded by green pine trees and meet a crystal blue sea extending as far as the shore. You can find any facility you would need for relaxation in the bay e.g. toilets, showers, camping areas, car park, restaurants, bar, clean water, picnic tables, and children's playground. Those who prefer exploring around can take a walk over the hill and enjoy the beauties of another quiet bay called Kizlar.
Blue Lagoon of Oludeniz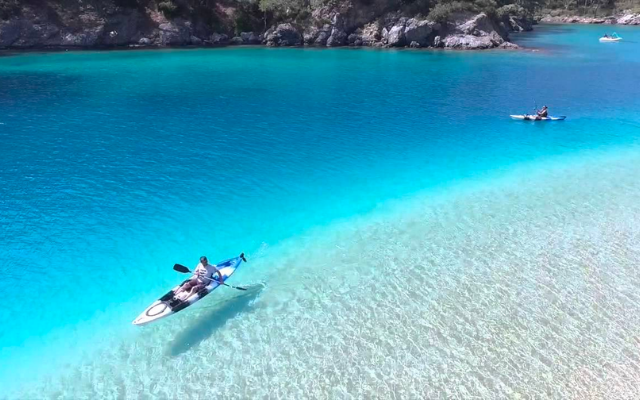 Another must-see beach near Gocek is the famous Blue Lagoon of Oludeniz. With its safe crystal-clear waters, historical sights and mile-long silky sandy beach; Oludeniz is a perfect swimming and water sports route, especially for families with children. The sea temperature is warm from May to October. It is said to be the most photographed destination in the Mediterranean so make sure you have enough space in your camera before your journey to Oludeniz. From Gocek; driving to Blue Lagoon Oludeniz only takes 40 minutes and the good thing is, on the way you would enjoy magnificent nature and fantastic views as well. Once you arrive; entrance to beaches run by the municipality is free except for the paid zone; national park (under protection) area. Around the beach; you can find a couple of restaurants, cafes and small souvenir shops. Oludeniz is also a well-known destination for paragliding. Descending over picturesque views is a breathtaking experience so if you are a paragliding fan, spice up your Blue Lagoon trip with this exceptional experience in Babadag mountain.
Aşı Bay
Aşı Bay is one of the best-preserved, quiet and calm bays of Muğla. It sits in a perfect location; is only 25 km to Dalaman and 35 km to Göcek. The bay is known for its breathtaking beauty, unique scenery, crystal blue sea and protected nature. It is mostly preferred by those who love to be away from the crowds and sync with nature. The sea is clear, wave-free, shallow but relatively cold. The nature of the bay is well-preserved so those who are allergic to bees may be advised to take precautions before going to the bay.
Çalış Beach
Çalış Beach is only 24 km to Gocek, 45 km to Dalaman Airport and 7 km to Fethiye town centre, which is the most popular point in the region for swimming and water sports. With its 4 km long sandy beach, it is the favourite point of surf and kiteboard enthusiasts. The sea is sometimes blurred because the beach is most of the time a bit windy. During the day, you can either enjoy the sea, and the sun or have fun in various cafes, restaurants and bars.
Sarigerme Beach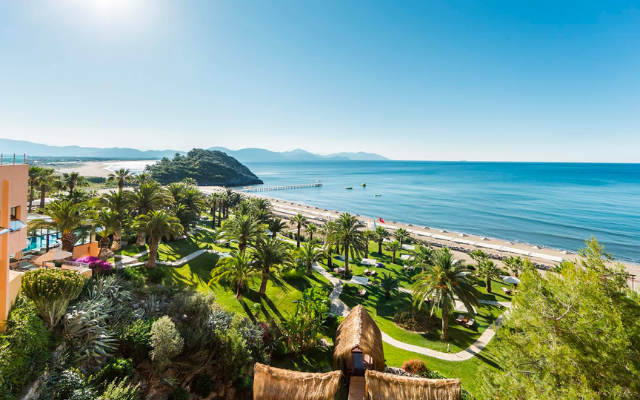 With only a half-an-hour drive from Gocek; you can visit a very clean and picturesque beach called Sarıgerme. With its 7 kilometres long, silky beach and surrounding pine trees; Sarıgerme is a favourite spot for anyone looking for a perfect swimming route near Gocek. Here, the sand is extraordinarily thin, and the sea is shallow. Restaurants, toilets, showers, sunbeds, parasols, and dressing cabins are available. Water-sports facilities are also provided. Reaching the beach is delightful itself.
You need to take a short walk along the wooded path and on the way down to the beach; you come across chickens, peacocks and wonderful scenery so if you are searching for a good beach alternative; Sarıgerme definitely promises a wonderful day out.
12 Islands Boat Trip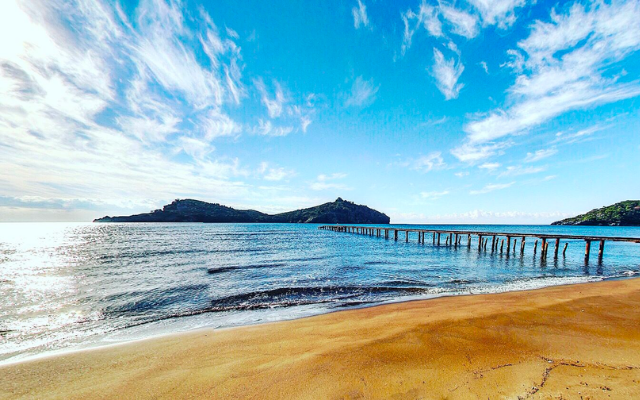 Besides visiting beaches; anyone who wants to make the best of the crystal clear waters of Gocek should not miss going on a 12 islands boat trip as well. The boats leave early in the morning and stop in numerous bays, so you would have the chance to swim in different spots and enjoy the amazing view of the sunset on the way back.
Here at Gocek Rentals; we have a wide variety of rental boats, gulets and motor yachts. With our highly experienced crew; we would be more than happy to arrange your tailor-suit sailing experience in Gocek whether it is a group arrangement or just for a single traveller. Besides; we also offer rental holiday villas, apartments and exclusive services that would suit any taste and budget. So, what are you waiting for? Give us a call at +90 532 361 3805 now and let us turn your holiday dreams into an unforgettable reality.
İztuzu (Dalyan) Beach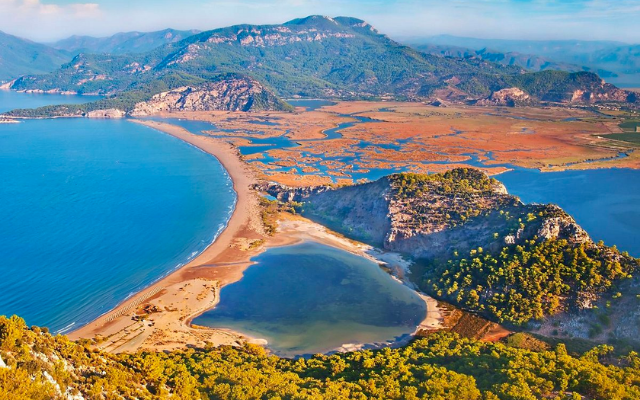 Situated only 50 minutes driving distance to Gocek; 4.5 km long golden sandy İztuzu Beach is considered as one of the most beautiful beaches in the Mediterranean near Dalyan. As a result of being one of the last nesting grounds for the endangered Loggerhead Turtles. The beach has been under protection since 1988 and is sometimes referred to as Turtle Beach. The beauty of the region has been officially proven as Turtle Beach, Dalyan has been awarded by British Times Magazine as the Best Open Space in Europe in 2008.
The sea at İztuzu beach is very shallow and salty. It is calm most of the time and when it is windy; spending time across waves is delightful. If you don't like the salty sea; you can go to the other side of the beach to Dalyanağzı Beach where the sea is no longer salty and where the river meets and mixes with seawater. Both Iztuzu and Dalyanagzi Beach are operated by the local municipality. Although you don't come across houses, restaurants or hotels on the beach; there are beach shacks providing snacks, alcoholic and non-alcoholic drinks, toilets and showers available. Also; you can hire parasols and sunbeds too.
İztuzu with its perfectly natural wonders is absolutely a must-see in the Mediterranean. Here; the silky sand is a perfect home to the eggs of Caretta Carettas. For that reason; access to the beach between 8 pm to 8 am is not allowed. The sand bar that separates the indigo sea from the mouth of the Dalyan Creek is an excellent swimming spot.